Hi Oleg.
I've saw this some days ago doing the same thing i'm doing now: editing trailer legs.
The other time the bug was just gone, and now, it keeps happening.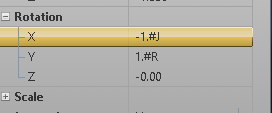 It happens like this: I open a pma file, change the values for position, goes all fine, and when I try to change the values for rotation, it seems that worked, but when I change the key and go back to the first key I edited, it's like in the picture.
I hope you can help me and explain why this happens.